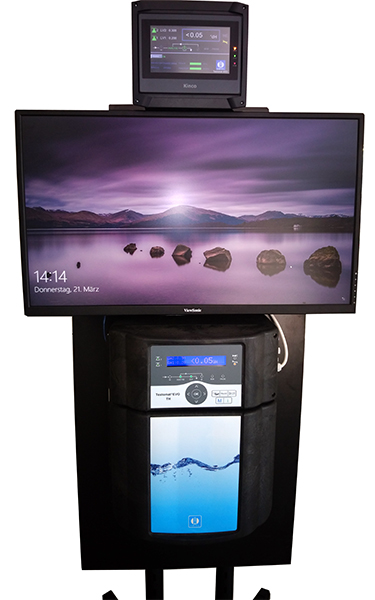 In 2018, we carried out the project "Einführung neuartiger Technologien und Digitalisierungsansätze am Beispiel eines modularen Wasseranlysegeräts" (English: Introduction of new technologies and digitization approaches using the example of a modular water analysis device) in cooperation with Mittelstand 4.0 Kompetenzzentrum Hannover. The aim of the project was to conduct research on the improvement and digital data transfer of our devices.
We worked together to optimize our self-developed piston pump and to develop procedures for preventive maintenance.
The cooperation in Industry 4.0 even led to the development of a demonstrator where sensors determine the load on the equipment and develop flexible maintenance intervals to prevent equipment failures. The use of a 7″ touch panel with fieldbus connection for visualization provides a preview of the future generation of our devices. The devices can be integrated into a cloud via fieldbus which enables not only continuous data monitoring but also new business models such as paying only for the analysis service in contrast to the purchase of the devices, as previously necessary. The demonstrator was exhibited at the Hannover Industrial Fair 2019.
Press report of the IMPT for the projekt "Water analysis device is capable of industry 4.0" (pdf file in German)
Project description on the homepage of Kompetenzzentrum Hannover (in German):
Video of the project (on Youtube):
News from 28th June 2019