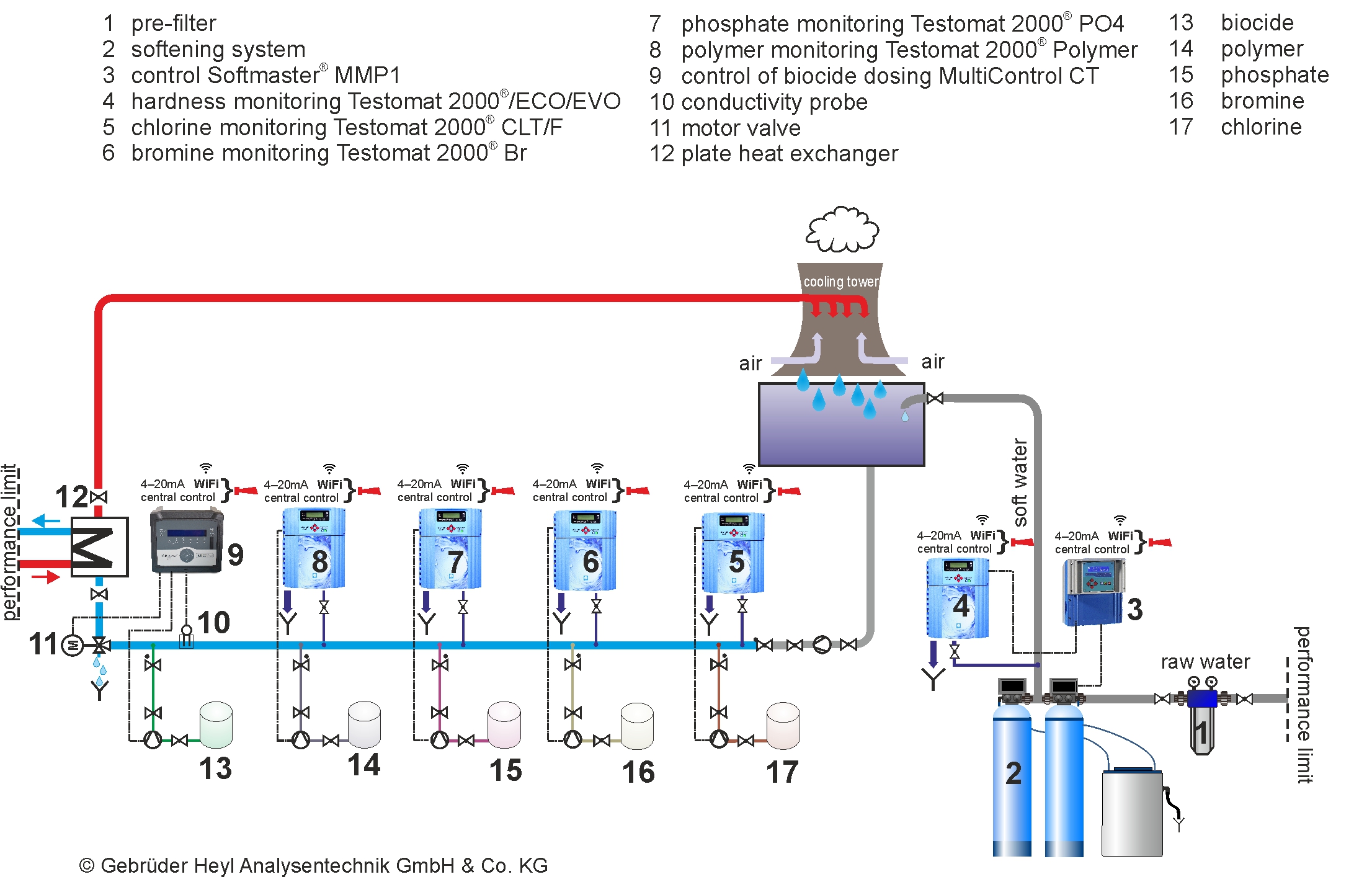 Control and monitoring of recooling plants
Today, cooling water controlling and monitoring are indispensable components of advanced energetic and hygiene-compliant operation of cooling towers according to VDI 2047-2 and VDI 3803-3.4.
A wide variety of recooling plants exists worldwide:
Closed cooling systems
Semi-open cooling systems
Continuous flow cooling systems
More than 100,000 recooling plants of the above categories are installed in Germany.
What is the responsibility of the plant operator according to the new VDI 2047-2 directive?
Recooling plants and cooling towers are required in the industry and with large buildings to allow for the quick dissipation of excess heat in production processes or buildings.
Although measures have been employed over the past few years to operate these systems more economically and more safely in terms of hygiene, malfunctions and downtime still often occur due to deposits, corrosion or even legionella. Because of the design, they consequently spread quickly.
Operators of evaporative cooling systems must therefore still act promptly to avoid mineral-based, corrosive and biological accumulations (such as legionella and pseudomonads).
The legislator has therefore issued a new hygiene directive, VDI 2047 Sheet 2 "Recooling plants – Ensuring the hygiene-compliant operation of evaporative cooling plants". This directive is also referred to as the VDI cooling tower rule.
The duties of the operating company for the prevention of legionella are specifically regulated by this directive. All plant operators are advised familiarise themselves with the new VDI 2047-2 directive and take the required measures – disregarding the operator's duties may be punishable by law.
To be able to continually ensure the economic, troublefree and – according to the new VDI 2047-2 directive – hygiene-compliant operation of a cooling tower, system conditioning and continuous monitoring of the water are absolutely essential.
What are the main focuses of monitoring?
Part of the cooling water regularly evaporates in open, semi-open and also closed cooling systems. As a result, the salt concentration in the circulating water rises constantly.
However, the increased salt and mineral content in the circulating water causes limescale buildup, corrosion and mineral deposits in the cooling tower and circulating water system. Drip collectors, trickling filters and distribution channels as well as the heat exchangers in the system are especially affected by this. This is compounded by biological problems, such as from the formation of algae and biofilms introduced from the supply water and the ambient air.  
VDI 3803 stipulates in section "3.4 for evaporative recooling plants" that the water condition of the circulating water must be adapted to the building materials of the cooling circuit.
This means that the cooling water should be conditioned without fail to prevent corrosion, inorganic deposits (calcium and magnesium carbonates) as well as organic deposits (algae and bacteria strains) – also called biofilms – from causing major damage in the cooling circuits.
Biofilms, however, can not only cause blockages of fittings and pumps but also constitute the germ cell for legionella or pseudomonas bacteria, which are very dangerous for humans.
Biofilms are also energetically equivalent to mineral deposits such as calcium or silicate deposits. A layer of only 1 mm thickness can cause a loss of efficiency up to 30% with both types of deposits. This, in turn, results in additional energy costs of up to 12%.
Conclusion:
A controlled cooling tower system monitored online works in a hygienically compliant manner (according to VDI 2047-2), economically and without malfunctions (according to VDI 3803).
{{pluginSettings.generalSettings.writing.no_results}}
of {{actionSettings.pagesCount}}