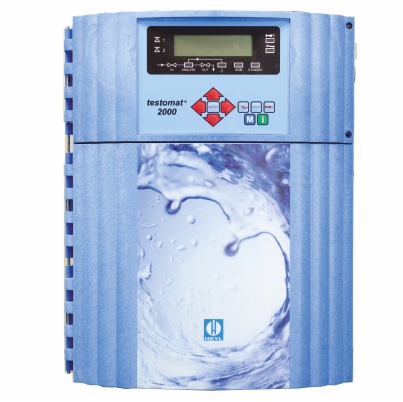 The Testomat 2000® CN is an online analysis instrument for water hardness for the Chinese market with a Chinese menu. It is identical with our Testomat 2000®.

Application
water treatment plants
water blending plants
drinking water plants
water softening plants
decarbonization plants
desalination plants
boiler houses
cooling towers

Measuring range
0.05-25 °dH Water hardness
0.5-20 °dH Alkalinity
1-15 mmol/l p-value
0.05-0.5 mmol/l minus m-value
(depending on the choice of the indicator)
 
Technical Data
Power supply: 230–240 VAC, 115 VAC, 24 VAC all 50–60Hz
Power consumption: max. 30 VA
Protection class: I
Degree of protection: IP 65
Ambient temperature: 10–45 °C, 50 – 104°F
Option: booster pump see accessories
Dimensions (B x H x T): 380 x 480 x 280 mm
Weight: approx. 9.5 kg
Menu languages: Mandarin, English

Mains water supply
Operating pressure:
1 to 8 bar (15 to 116 psi) or
0,3 to 1 bar (5 to 15 psi), after removing of the valve body out of the regulator/filter housing
Water inlet: Opaque hose with 6 mm external diameter/4 mm internal diameter
Water outlet: Hose with 6 mm external diameter/4 mm internal diameter
Water temperature: 10 to 40 °C; 50 to 104°F
Here you will find available indicators for the Testomat 2000® CN.
Select accessories in the product search to find e.g. pumps, filters and service sets for the Testomat 2000® CN.