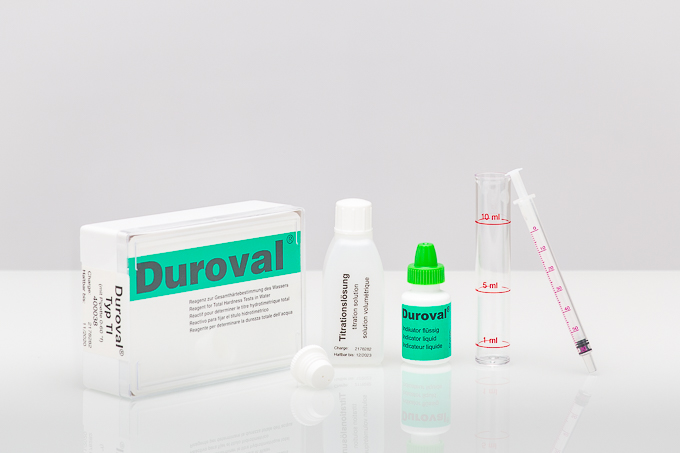 Industrial test kit for the determination of water hardness across all hardness ranges via complexometric titration with a liquid titration agent and a pipette, accurately calibrated in hardness units.
Especially recommendable as initial equipment for water softening installation.
Description
Complete with measuring tube, pipette calibrated from 0-4 °f (French hardness), special junction stopper, liquid indicator and titration solution.
Analyses: approx. 60 (at an average hardness of 26,7 °f)
Measuring time: approx. 2 minutes
Accuracy: 1 °f
Industriebesteck zur Bestimmung der Wasserhärte in allen Härtebereichen durch komplexometrische Titration mit einem flüssigen Titrationsmittel und einer in Härtegrad-Einheiten genau kalibrierten Dosierpipette.
Besonders geeignet für die Erstausstattung von Wasseraufbereitungsanlagen.
Beschreibung
Komplett mit Messröhrchen, Indikator "flüssig", Dosierpipette kalibriert 0–60 °f (französische Härte) und 30 ml Titrationslösung.
Analysen: ca. 60 (bei einer durchschnittlichen Härte von 26,7 °f)
Messzeit: ca. 2 Minuten
Messgenauigkeit: 1 °f