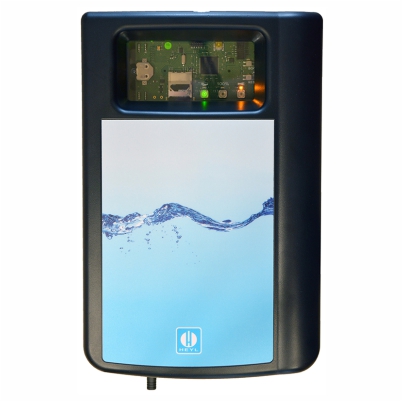 The measuring converter Testomat® Modul TH-R is an analysis instrument that is used to determine and monitor residual total hardness (water hardness) via titration and photoelectric evaluation.
The Testomat® Modul TH then transmits the measurement result to the control system:
via a 4-20 mA interface as a current value. The control system calculates the measurement value from the current, e.g. in ppm.
via a RS232 interface as a measurement value.
In addition, the unit can be parameterised via the RS232 interface. It can process four commands from a higher-level controller: Import, Export, Checksum Error, Software Reset
Application
water treatment plants
industrial boilers
monitoring of process water
drinking water plants

Measuring range
0.05-25 °dH water hardness (depending on the choice of the indicator)

Technical Data
Power supply: 24 VDC, the device is protected against reverse polarity
Power consumption: max. 1 A, without external load
Protection class: I
Degree of protection: IP 54
Ambient temperature: 10–40 °C
Dimensions (B x H x T): 270x 350 x 147 mm
Weight: approx. 5.3 kg
Relay contact load: max. 35 VAC / 60 DC, max. 4 A
Current interface: 0/4 – 20 mA, max. load 500 Ohms
USB interface: Type Mini-B (connector); USB 2.0 Full speed
SD card: SD or SDHC cards with a maximum capacity of 32GByte are suitable. The card must be FAT or FAT32 formatted.
Battery: Lithium CR2032

Mains water supply
Operating pressure:
1 to 8 bar or
0,3 to 1 bar after removing of the valve body out of the regulator/filter housing
Water inlet: Opaque hose with 6 mm external diameter/4 mm internal diameter
Water outlet: Hose with 12 mm internal diameter
Water temperature: 10 to 40 °C
Here you will find available indicators for the Testomat® Modul TH-R.
Select accessories in the product search to find e.g. pumps, filters and service sets for the Testomat® Modul TH-R.