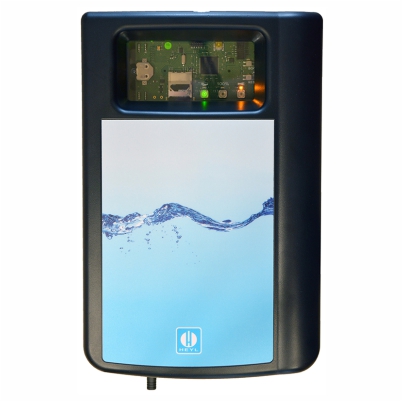 The process photometer Testomat® Modul NH2CL-R (monochloramine) is a robust, wet chemical online measuring converter for monitoring the decay behaviour in cooling towers after shock chlorination.
The Testomat® Modul NH2CL-R then transmits the measurement result to the control system:
via a 4-20 mA interface as a current value. The control system calculates the measurement value from the current, e.g. in ppm.
via a RS232 interface as a measurement value.
The measurement converter combines the measuring technology of the Testomat® family and a reduced technical design, which lowers costs and maintenance effort.
Settings can be displayed and changed with the Service Monitor programme, which is delivered with the device.
In addition, the unit can be parameterised via the RS232 interface. It can process four commands from a higher-level controller: Import, Export, Checksum Error, Software Reset
Application
Monitoring of the decay behaviour in cooling towers after shock chlorination

Measuring range
0 – 5 ppm (resolution 0.1)

Technical Data
Power supply: 24 VDC, the device is protected against reverse polarity
Power consumption: max. 1 A, without external load
Protection class: I
Degree of protection: IP 54
Ambient temperature: 10–40 °C
Dimensions (B x H x T): 270x 350 x 147 mm
Weight: approx. 5.3 kg
Relay contact load: max. 35 VAC / 60 DC, max. 4 A
Current interface: 0/4 – 20 mA, max. load 500 Ohms
USB interface: Type Mini-B (connector); USB 2.0 Full speed
SD card: SD or SDHC cards with a maximum capacity of 32GByte are suitable. The card must be FAT or FAT32 formatted.
Battery: Lithium CR2032

Mains water supply
Operating pressure:
1 to 8 bar or
0,3 to 1 bar after removing of the valve body out of the regulator/filter housing
Water inlet: Opaque hose with 6 mm external diameter/4 mm internal diameter
Water outlet: Hose with 12 mm internal diameter
Water temperature: 10 to 40 °C
Here you will find available reagents for the Testomat® Modul NH2CL-R
Select accessories in the product search to find e.g. pumps, filters and service sets for the Testomat® Modul NH2CL-R