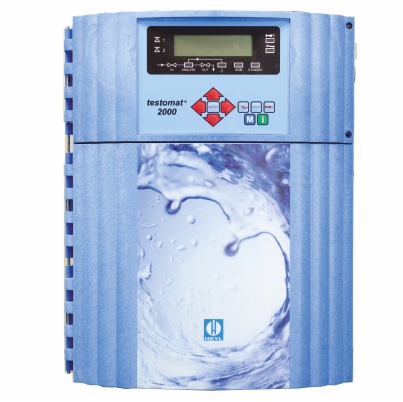 The Testomat 2000® CAL corresponds in function and suitability to the Testomat 2000®, but has an additional calibration function in order to balance out possible interference effects caused, e.g., by foreign ions.

Application
control of water quality for which calibration of the measuring instrument is important, e.g. pharmaceutical industry

Measuring range
0.05-25 °dH Water hardness
0.5-20 °dH Alkalinity
1-15 mmol/l p-value
0.05-0.5 mmol/l minus m-value
(depending on the choice of the indicator)
 
Technical Data
Power supply: 230–240 VAC, 115 VAC, 24 VAC all 50–60Hz
Power consumption: max. 30 VA
Protection class: I
Degree of protection: IP 65
Ambient temperature: 10–45 °C, 50 – 104°F
Option: booster pump see accessories
Dimensions (B x H x T): 380 x 480 x 280 mm
Weight: approx. 9.,5 kg
Menu languages: German, English, French, Italian

Mains water supply
Operating pressure:
1 to 8 bar (15 to 116 psi) or
0,3 to 1 bar (5 to 15 psi), after removing of the valve body out of the regulator/filter housing
Water inlet: Opaque hose with 6 mm external diameter/4 mm internal diameter
Water outlet: Hose with 6 mm external diameter/4 mm internal diameter
Water temperature: 10 to 40 °C; 50 to 104°F
Here you will find available indicators for the Testomat 2000® CAL.
Select accessories in the product search to find e.g. pumps, filters and service sets for the Testomat 2000® CAL.