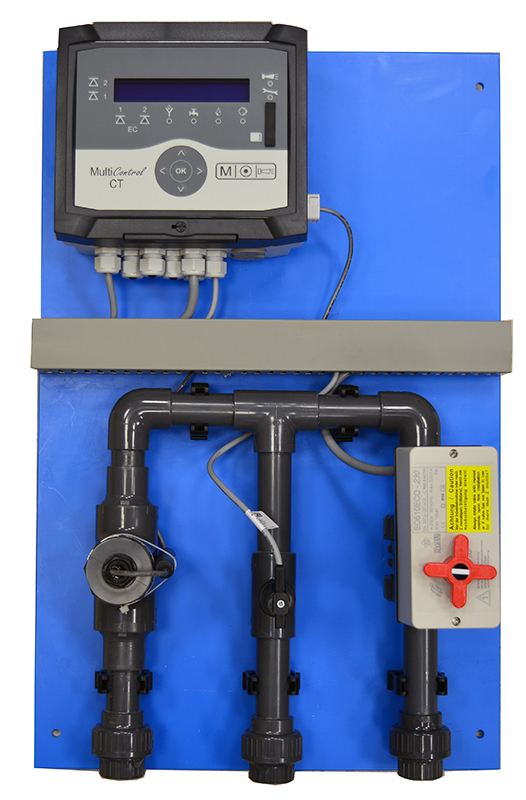 The MultiControl CT mounting plate was developed as an automatic desalination device for cooling towers and air washers.
It consists of:
– MultiControl CT control
– Inductive probe
– Flow switch
– Motor valve
– Flow control with panel for discharge of salt water
Desalination takes place automatically, when the selected conductivity limit value is exceeded. The automatic monitoring and control of the biocide and inhibitor dosage is also possible.
Technical data of the automatic desalination device
Dimensions: 450 x 700 x 300 mm (W x H x D)
Mounting dimensions: 629 x 407 mm
Piping material: PVC-U
Inlet: DN 32; inner diameter approx. 25 mm
Outlet: DN32; inner diameter approx. 25 mm
Outlet duct: DN 32; inner diameter approx. 25 mm
Max. water pressure: 4 bar
Power supply: 230 VAC
Power consumption: 20 VA
Ambient temperature: 5 – 40°C
Water temperature: 5 – 40°C
Weight: 8.2 kg
Protection type: IP54
MultiControl CT
Item no.: 341030
Temperature display: 0.0 to 150 °C ± 0.5 °C
Display accuracy: ± 2 digits or ± 5% of full-scale end
Resolution: 1.2 μS / cm
Dosing: 3 relays for control of biocide/inhibitor dosing pumps
SD card: for logging measurement data and alarm messages
More details on the product page of MultiControl CT
Type I-S-P (item no. 310140)

Type I-J-F (item no. 310160)

Inductive probe

Conductivity measuring range: 20 mS/cm
RS232 output
Power consumption: 20 V – 50 mA
Temperatur sensor: 0 – 100 °C
Conductivity measuring range: 5 mS/cm
Change in the measuring range possible
Current output: 2 x 0 -20 mA
Power consumption: < 2.6 W
Flow monitor

Type VH3
Nominal pressure: PN 25
max. flow rate: 100 l/min
Switching range: 10.4 … 14.8 l / min
Type VH3
Nominal pressure: PN 25
max. flow rate: 100 l/min
Switching range: 10.4 … 14.8 l / min
Motor valve
230 VAC 50-60 Hz
Motor power: 4 W
230 valve
Motor power: 10 W